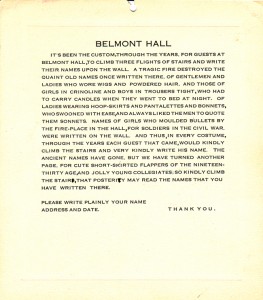 Belmont Hall offers a memorable venue for many special occasions.   Hosting an event such as a bridal or baby shower, a private party or small dinner party at Belmont would be easier for you and would provide an exceptional experience for your guests.   Nonprofit fund raising events held at Belmont Hall might attract more participants who are eager to visit this historical location.   This serene and stately venue is very appropriate for memorial services and for receptions after funerals.
Belmont Hall house rentals are available all year round except holidays from 8:30 am to 10:30 pm.  Due to the size and special historical nature of Belmont Hall we must place a limit on the number of guests in the house.Grounds rentals are available from May through October any day of the week from 8:30 am to 10:30
House or Grounds and Gardens Rentals for Special Occasions include:
Use of the entire downstairs of  the house and/or use of the grounds and gardens
Use of the portico on the south side of the house
Electrical service
Parking in designated areas
Use of the two handicapped accessible bathrooms on the first floor
Use of available tables and chairs in the house
A Friends of Belmont Hall staff member on site during your rental time.
Use of our caterer's serving kitchen
For more information about planning your special occasion at Belmont Hall call a Friends of Belmont Hall staff person at 1- 302-264-9048 or email us at belmonthallde@gmail.com . Also, see Frequently Asked Questions (FAQ) on this website.