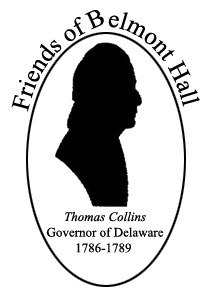 Belmont Hall, a Georgian mansion built in 1773, is one of the most treasured and historic houses in Delaware.  Surrounded by spacious grounds and beautiful gardens, Belmont is a fascinating place to  visit.  Arrange a tour or come to one of our special events where you will learn about local and state history, hear stories about the people who have called Belmont home, and enjoy the pleasant grounds.
This magnificent mansion surrounded by stately trees, rolling lawns, and lovely gardens is available to make your own special event a lifetime memory.  Imagine holding your business meeting or entertaining guests at a party or wedding at this unique setting.  Read more…
---
Join the Friends of Belmont Hall
Join us in becoming an active member.  Working together we can meet the goals of  the mission of the Friends of Belmont Hall.
Next meeting:  Wednesday May 15th at 7:00 pm at Belmont Hall
Historic Quilt Exhibit
Date to be Announced
Commemoration of the 1863 Lottery Draft held on the steps of the Barracks (now the Smyrna Museum)
Saturday, October 12, 2013

Encampment  of the Living History Society of Delaware Civil War Regiments
Sat & Sun, October 12 & 13, 2013


More Upcoming Events