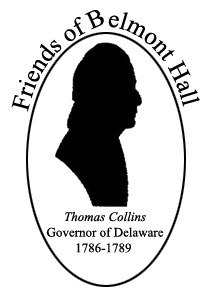 Belmont Hall, a Georgian mansion built in 1773, is one of the most treasured and historic houses in Delaware.  Surrounded by spacious grounds and beautiful gardens, Belmont is a fascinating place to  visit.  Arrange a tour or come to one of our special events where you will learn about local and state history, hear stories about the people who have called Belmont home, and enjoy the pleasant grounds.
This magnificent mansion surrounded by stately trees, rolling lawns, and lovely gardens is available to make your own special event a lifetime memory.  Imagine holding your business meeting or entertaining guests at a party or wedding at this unique setting.  Read more…
---
Join the Friends of Belmont Hall
Join us in becoming an active member.  Working together we can meet the goals of  the mission of the Friends of Belmont Hall.
Next meeting:  Wednesday Jan.15th  at 7:00 pm at Belmont Hall
The Friends of Belmont Hall holds meetings on the third Wednesday of most months.  Please join us!
Annual Christmas at Belmont Hall
Civil War Christmas at Belmont Hall
Visit a Civil War military encampment, ride in a horse drawn sleigh, learn about life in the 1860"s at presentations, and listen to the Fieldsoup the Camp Band as they perform period songs and carols.  Children can visit Santa and make a Civil War era tree ornament.
Sat. Dec. 14 from 1 – 4 pm, Belmont Hall       713 Smyrna Leipsic Road        Smyrna
Admission $5 adults, $2 for children
Christmas Open House and Civil War Exhibit at the Smyrna Museum. The "Barracks" built in the 1790's and the Plank House also built in the 1700's make up the Smyrna Museum Complex. Take a tour of these historic buildings decorated for the holidays and enjoy refreshments.
Sat. Dec. 14 from 10 am to 1 pm
11 South Main St., Smyrna.     www.smyrnamuseum.com   302- 653 -1320
Sunday December 15th –
Holiday Walking Tour of Historic Downtown Smyrna
Belmont Hall is participating in this tour by having an Open House on Sunday Dec. 15th from 2 pm – 4 pm.  Start at Belmont Hall.  After taking a guided tour of Belmont Hall decorated for the holiday,  pick up a map for this self-guided walking tour and drive into downtown Smyrna to enjoy the decorations and open houses there.  The Holiday Walking Tour in Smyrna is from 3 until 6 pm  and is sponsored by the Smyrna Downtown Renaissance Association.  This event is free but donations to support the façade and business grant programs will be accepted.
Historic Smyrna Quilt Exhibit
Thursday March 27th, Friday March 28th, Saturday March 1st, and Sunday March 2nd
Sunday April 13th
 For more details on the events, Christmas at Belmont and the Holiday Walking Tour, click on

More Upcoming Events below:


More Upcoming Events