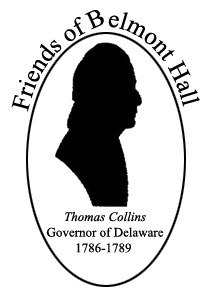 Belmont Hall, a Georgian mansion built in 1773, is one of the most treasured and historic houses in Delaware.  Surrounded by spacious grounds and beautiful gardens, Belmont is a fascinating place to  visit.  Arrange a tour or come to one of our special events where you will learn about local and state history, hear stories about the people who have called Belmont home, and enjoy the pleasant grounds.
This magnificent mansion surrounded by stately trees, rolling lawns, and lovely gardens is available to make your own special event a lifetime memory.  Imagine holding your business meeting or entertaining guests at a party or wedding at this unique setting.  Read more…
---
Join the Friends of Belmont Hall
Join us in becoming an active member.  Working together we can meet the goals of  the mission of the Friends of Belmont Hall.
Next meeting:  Wednesday April 16th  at 7:00 pm at Belmont Hall
The Friends of Belmont Hall holds meetings on the third Wednesday of most months.  Please join us!
Special Event!!!  2nd Regiment Delaware Volunteer Infantry's
                 Camp of Instruction and School of the Soldier
Basically… bootcamp for the new recruits to the 2nd Regiment!!
Held on the lawn of Historic Belmont Hall on
Friday April 4th and Saturday April 5th
Free admission    Open to the Public
Fun for the whole family and a wonderful way to learn American History through this Living History presentation!!!
Schedule:
Friday April 4
7:30 – 9 pm Candlelight Tour of camp.  See reenactors in their camp and ask questions about their lives as  Civil War soldiers.  Find out how they cook, what they eat, what medical care they receive, or what they receive as pay.  Ask about their weapons or the family they have left behind. Sing along with the Field Soup Band as they play period music.
Saturday April 5
9:00 am   Dressing the Part (looking like a soldier) , Instruction on how and when to salute
9:45 am   School of the Soldier -  Basic drill instruction & Manual of Arms
12:00 noon  Soldier's Mid-day Meal
1:00  Company Formation
1:15   School of the Company – Company battle formations/drills, firing positions
3:00  Firearms Examination and safety instructions
3:30   Skirmish Drills
5:00   Break Camp
Unfortunately, Belmont Hall will not be able to be opened for tours during this encampment on April 4th and 5th.
Belmont Hall is located at 217 Smyrna Leipsic Road in Smyrna.
The entrance is the first left on Smyrna Leipsic Road after turning east off of the DuPont Hwy. (Rt. 13).
Eggsciting Easter Event at Historic Belmont Hall
Sunday April 13th from 2 pm until 4 pm
Join the fun!
2:15
 and

2:45 pm

Egg Hunt for Preschoolers only

.  Each preschooler receives a Goody Bag when they turn in their plastic eggs! Remember to bring a basket or bag for your preschooler to collect eggs!!
2:30
and

3:00 pm

Egg Roll for K – 4 th graders

.   Each K – 4th grader gets to keep the Belmont Hall wooden egg used in the Egg Roll and gets a Goody Bag
2:00 – 4:00 pm  

Games and Relay Races for Preschoolers and K – 4th graders !  Prizes!
Light refreshments!  Bring your camera to take photos with the Easter Bunny!
Children  $2           Adults   Free
Preregister your children 
by calling (302-264-90448) or emailing (belmonthallde@gmail.com).
Please tell us
the number of preschool
and
the number of K – 4th grade children
you plan on bringing!!
By preregistering we can be sure to  have enough prizes, candy, and refreshments for this event!!
Hope to see you on Sunday April 13th!!!!


More Upcoming Events