Friends of Belmont Hall Meetings
   The Friends of Belmont Hall holds meetings on the

third Wednesday of most months.
Please join us.  All are invited to help preserve this historic mansion and its important part in Delaware's history.

Wednesday Oct. 15th at 7:00 at Belmont Hall
    Wednesday Nov. 19th at 7:00 at Belmont Hall
---
Future Events:
Volunteer Recruitment Event  Sunday October 19th at 2 pm
     Join us on Sunday October 19th at 2 pm for our Belmont Hall Volunteer Event!  Come and enjoy refreshments and learn about becoming a member of the Friends of Belmont Hall and about the opportunities to volunteer with us !
     Learn about volunteer positions that would fit your interests or expertise while helping to maintain and preserve this historic property!  Some of these positions are grounds and gardens keeper, tour docents and greeters, rental monitors, special event coordinators, planners and helpers!
Please join us!
Local Happenings

:
Saturday October 18           
Historic Haunted Investigation Tour!

Have you ever wanted to be a ghost hunter??
Ever wondered how paranormal investigations work? This is your chance to become part of the team!
Delmarva Historic Haunts, Inc., a history friendly paranormal group based in Milford, will be conducting haunted tours and paranormal investigations in Smyrna on
September 13 and October 18

! They want you to be part of their investigation!
Come along as they investigate the Smyrna Museum and the Plank House, as well as, the Delaware House and the Presley Spruance House.
Both dates offer two tour times:
7:30 pm

or

10:30 pm

. All groups will begin and end at the Smyrna Museum.
Ticket prices are $25 per person. 

Y

ou must be 13 or older to attend this event.
All ticket sales benefit the Duck Creek Historical Society, our local non-profit organization that oversees, and staffs the always free Smyrna Museum.
Advanced Payment and Registration is Required
  Contact us today to secure your space!         302.653.1320
https://www.facebook.com/DuckCreekHistoricalSociety
www.DelmarvaHistoricHaunts.com
ALLEN McLANE (Native of Smyrna) PUBLIC SYMPOSIUM
Saturday, October 25, 2014, at Wesley College
The Allen McLane Public Symposium will bring the life and military career of this noted son of Delaware, Allen McLane, to the attention of the people of our state and beyond. He has been called the "Unknown Hero of the Revolution," "Delaware's Daredevil" and "Washington's Favorite Cavalryman."
McLane was a patriot, partisan leader, soldier, and spy for eight years during the Revolutionary War. Subsequently, he was a government servant, Delaware's first marshal, member of the Privy Council, member of the House of Assembly, and magistrate, and then for 32 years served as the Collector of the Port of Wilmington.
The symposium's impressive list of speakers includes: John Nagy, author of Invisible Ink; Glenn Williams, military historian; Chuck Fithian, retired HCA archaeologist; Edith McLane Edson, descendant of McLane and writer; Robert A. Selig, writer and noted Rochambeau Revolution Route advocate; and Michael Lloyd, long-time McLane researcher. Also featured will be a presentation by the 1st Delaware Regiment and a portrayal of Allen McLane by Tom Welch. Delaware State University Professor Samuel Hoff will serve as the master of ceremonies.
Participants will receive a free copy of the booklet "Allen McLane –Patriot, Soldier, Spy, Port Collector," which has been written by a team of scholars, researchers and historians, each of whom has a unique perspective on the McLane story. Some of the same writers will be presenting at the symposium.
The symposium will be held on Saturday, October 25, 2014, from 9:00am until 3:30pm at Wesley College's Peninsula Room, in the du Pont College Center, 120 No. State Street in Dover, DE. Parking is available in the lot at Fulton and Bradford Streets.
The symposium is free and open to the public. Luncheon is available for $10. Registration is at 8:30am. Preregistration is available by calling Tom Welch at

302-632-1803

or by email at

allenmclane@gmail.com

.
** * * * * * * * * *
Primary sponsors include the Caesar Rodney Chapter of the Sons of the American Revolution, the Wesley College History Department, the Delaware Historical Society, the Delaware State Society of the Cincinnati and the American Revolution Roundtable of Northern Delaware.
Co-sponsors include the Friends of the Delaware Public Archives, the Claymont Historical Society, the Friends of Old Dover, the Daughters of the American Revolution, the Delaware Division of Historical and Cultural Affairs, the Friends of Belmont Hall, the Duck Creek Historical Society, the Friends of John Dickinson Mansion, and the 1st Delaware Regiment. Gifts have also been made by Ginger Trader, Troy and Carolyn Foxwell, Matthew and Nancy Barlow, Claudia Onkean, Tom Welch, the James Family, and Kim Burdick.
Delaware Sampler Identification Days
Sponsored by the Sampler Consortium and the Sampler Archive Project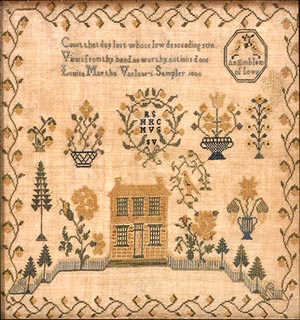 Bring your
antique needlework samplers

to one of the

two

fall Sampler ID Days to be photographed and documented for the Sampler Archive Project, a national online sampler database.
Saturday, November 22, 2014 

      10:00 a.m. – 4:00 p.m.
Historic Odessa Foundation, 201 Main Street, Odessa, DE
 If you have more than two samplers, please contact Ryan Grover at 302 674-2111 ext. 108 or rgrover@biggsmuseum.org to make an appointment.