Friends of Belmont Hall Meetings
   The Friends of Belmont Hall holds meetings on the

third Wednesday of most months.
Please join us.  All are invited to help preserve this historic mansion and its important part in Delaware's history.

 Wednesday Sept. 17th at 7:00 pm at Belmont Hall
Wednesday Oct. 15th at 7:00 at Belmont Hall
---
Future Events:
Join us on
Sunday October 19th

for our Belmont Hall Volunteer Party!  Come and enjoy refreshments and learn about becoming a member of the Friends of Belmont Hall and about the opportunities to volunteer with us !   more info later
Local Happenings

:
September 13 and October 18           
Historic Haunted Investigation Tour!

Have you ever wanted to be a ghost hunter??
Ever wondered how paranormal investigations work? This is your chance to become part of the team!
Delmarva Historic Haunts, Inc., a history friendly paranormal group based in Milford, will be conducting haunted tours and paranormal investigations in Smyrna on
September 13 and October 18

! They want you to be part of their investigation!
Come along as they investigate the Smyrna Museum and the Plank House, as well as, the Delaware House and the Presley Spruance House.
Both dates offer two tour times:
7:30 pm

or

10:30 pm

. All groups will begin and end at the Smyrna Museum.
Ticket prices are $25 per person. 

Y

ou must be 13 or older to attend this event.
All ticket sales benefit the Duck Creek Historical Society, our local non-profit organization that oversees, and staffs the always free Smyrna Museum.
Advanced Payment and Registration is Required
  Contact us today to secure your space!         302.653.1320
https://www.facebook.com/DuckCreekHistoricalSociety
www.DelmarvaHistoricHaunts.com
Delaware Sampler Identification Days
Sponsored by the Sampler Consortium and the Sampler Archive Project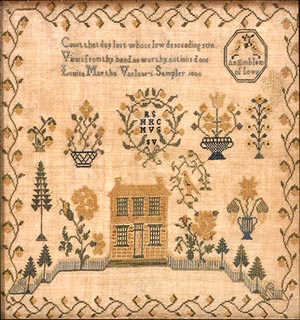 Bring your
antique needlework samplers

to one of the

two

fall Sampler ID Days to be photographed and documented for the Sampler Archive Project, a national online sampler database.

 
Sunday September 21, 2014

            10:00 am – 4:00 p.m.
Biggs Museum, 406 Federal Street, Dover, DE
Saturday, November 22, 2014 

      10:00 a.m. – 4:00 p.m.
Historic Odessa Foundation, 201 Main Street, Odessa, DE
 If you have more than two samplers, please contact Ryan Grover at 302 674-2111 ext. 108 or rgrover@biggsmuseum.org to make an appointment.